Thursday, 07 April 2016 12:49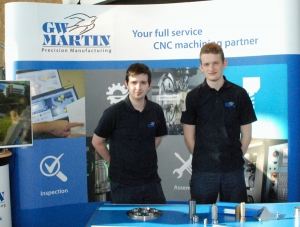 We exhibited at the STEM Apprenticeships Fair at the Winchester Science Centre in March 2016. The Apprenticeships Fair was aimed to highlight the plethora of apprenticeships opportunities within the STEM industries in Hampshire, and was visited by secondary students and careers advisors from across the county. Two of G W Martin's current apprentices manned the stand and provided young people with a good insight in the excellent career opportunities in engineering. Michael Field who is in his fourth and final year of training at Eastleigh College and Luke McCarthy who is currently in his second year of training at Southampton Engineering Training Association.
"I enjoy the variety and challenge that an engineering apprenticeship at G W Martin offers and it was good meet the young people today who are interested to learn more about a career in engineering" - Luke, Apprentice Year 2; Southampton Engineering Training Association
"Having this opportunity has allowed me to explain in detail what an apprenticeship offers and the benefits it will provide in the future." - Michael, Apprentice Year 4; Eastleigh College
"We are excited to have this chance to highlight the opportunities at GW Martin for bright young people to enter a career in engineering. As an alternative to further education, we offer a four year apprenticeship which enables our apprentices to earn while they learn. For over 50 years we have been training apprentices and the success is evident in that many of our current team, including senior managers, started their careers as apprentices with us." - Stuart Yalden; Managing Director.